About Cattle Feed Manufacturers, Animal Feed Manufacturers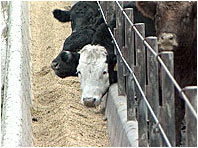 Scientifically formulated by skilfully blending together pure ingredients like cereals, oil cakes, brans and pulse bye products Not only does this food contain an appropriate quantity of energy and protein, carefully balanced, it is also fully supplemented with essential stabilished Vitamins, Minerals and Trace elements. The required proportions of Calcium and Phosphorus are also maintained.

The feed ingredients are carefully selected and tested for puarity in our laboratory to maintain the right nutrient balance in the feeds. Therefore Jai Kisan Cattle Feeds boost milk production to maximum biological efficiency, maintaining the health and condition of your animals throughout.
Though the actual composition of feeds is superior in quality, a minimum guaranteed analysis is given below :
| | | | | |
| --- | --- | --- | --- | --- |
| | | Jai Kisan High Performance Milk Ration | Jai Kisan Special Milk Ration | Jai Kisan Dry Stock Ration |
| Crude Protein | (Minimum) | 24.0 | 20.0 | 18.0 |
| Crude Fat | ( - do - ) | 4.5 | 4.0 | 3.5 |
| Crude Fibre | (Maximum) | 9.0 | 10.0 | 11.0 |
| Acid Insoluble Ash | ( - do - ) | 3.5 | 3.5 | 3.5 |
| Calcium | (Minimum) | 1.0 | 1.0 | 1.0 |
| Phosphorus | ( - do -) | 0.7 | 0.7 | 0.7 |
| Metabolizable Energy (kcal/kg) | ( - do - ) | 2700 | 2600 | 2500 |